One quarter of the year already gone at breakneck pace. I am ashamed to say that I have hardly done as much sewing as I would like in the past three months. My time has been taken up largely by my Graduate Diploma in Education, and am not likely to find any additional time now that I am close to starting my first seven week practical.
Despite this, I am determined to cut down on some longstanding WIPs before I begin full-time work next year. This quarter's list is looking to be a long one.
1. First up is my Happy-Go-Lucky Jelly Roll Race quilt. Quilting and binding this project is both on my FAL Q2 list, and my set
goal for April in the A Lovely Year Of Finishes
. I have had this top completed for around six months, waiting for quilting.
The thought of slugging it out at the longarm for eight hours to get this done has been holding me back, so I made a decision. I am going to quilt it on my domestic machine. The fact that I can pick it up, work on it, then put it away is very appealing. Not something that can be done on the longarm.
2. Unfortunately I didn't get to finish my two iron caddys (my ALYOF March goal), so I hope to finish them in this quarter. I did get to cut them both out, and started piecing one of them, before realizing I needed to find some thin elastic before I could continue... and that's where it has stayed for the last week.
3. Pencil pencil case: I came up with the idea after seeing a knitted pencil bookmark on the internet, and decided I had to have one in my life. But instead of a bookmark, I wanted to make it a pencil case. So far I've knitted my two pencil shapes. I just need to piece the fabric lining and zip, then seam everything together. Easy! I hope so - I want to have it ready to take on my prac placement to my local high school in three weeks!
4. Mum's socks. I have finished another 16 row repeat, and am now almost halfway through sock #1.
5. Sew together bags: I have almost finished mum's (just needs the last zip attached), and mine is practically all cut out (there was a mix-up with the cutting).
6. Churn dash quilt: This was a block swap that my local sewing group ran, where we all made and swapped churn dash blocks in any Kaffe Fasset fabrics. The swap is now complete, and I have a total of 32 blocks to be sewn together. This one is of high priority, as there is a competition for those who complete their quilt tops by a certain date.
7. Saltwater quilt: This has been on my FAL quarter lists for a very long time now. As with my Jelly Roll Race quilt top, I think I'm going to quilt it on my domestic machine. It is certainly small enough to handle.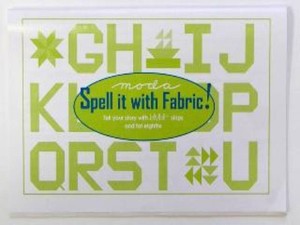 8. ABC quilt: Using the Spell it with Moda quilt pattern. This quilt has been sitting in a box for about six months, but now that I'm close to starting my teaching career, an ABC quilt is very exciting (one day I may be able to hang it in my English classroom!). I have about three letters left to complete, and all four extra blocks. I want to make 1x hashtag block, 1x exclamation mark/ question mark block, 1x schoolhouse block, and 1x pencil block. Then it just needs quilting and binding.
9. A Walk in the Woods jelly roll race quilt: I have been hording this jelly roll for quite some time now, and decided that it needed a pattern where the fabric was hardly cut up. Unlike the last jelly roll race quilt I made, I'm going to join my strips together with squares of a contrasting fabric (rather than on the diagonal).
10. Granny Square quilt: Again, something that has been on my list for a little while. Still waiting to be cut out, although that blue fabric at the back is the backing, already finished and waiting.
Linking up to
FAL Q2 2015
, and
SewBittersweetDesigns ALYOF
.